CRIS is a Current Research Information System that helps researchers to organize and enhance their professional profiles
with information on scholarly activities, intellectual property, creative works and more.
CRIS creates a unique "fingerprint" identifier for each researcher, and recognizes every author's research fields and keywords.
CRIS also identifies keywords and research fields for the academic institutions and for specific faculties.
The system affiliates every researcher with their academic institution and enhances your achievements as a Technion researcher.
Please note: The CRIS system is currently going through some updates, checks, and maintenance.
Please inform us if you experience any technical difficulties: lib.cris@technion.ac.il or Helpdesk.
There are many benefits to organizing all of your academic works in one place, mainly in improving your research visibility (globally), and in making the researcher reports more accessible in research committees.
The "fingerprints" and the keywords allow you to find other authors with similar research interests and build connections for potential collaborations.

Students who are looking for a thesis supervisor will also be able to reach you more easily, as well as companies who are interested in original research

es

or patents.

CRIS presents an interactive map that shows your academic collaborations in Israel and globally, making related researchers and publications more accessible.
All of the information and data displayed on the portal complies with the General Data Protection Regulation law on data protection and privacy in the European Union (EU).
(From: elsevier.com) 
"The rich functionality of the Pure Portal (CRIS) reduces time spent searching for researchers and accelerates the identification of expert collaborators from across disciplines, thus facilitating more effective and productive partnerships." 
The system facilitates an evidence-based execution of strategy, leading to increased funding, more international collaboration and greater research visibility. Making researcher and departmental profiles searchable helps building stronger collaborative networks on campus and with other institutions. Read more about the benefits of Pure by Elsevier. For more information, Visit the Israel Council for Higher Education – VATAT website (text in Hebrew). 
Highly recommended: check and update your author identifiers in SAP system
The identification number helps to raise the research visibility, improve the research impact, find and recognize specific authors and avoid the confusion caused by similar names etc.
Thanks to the unique Author Identifier, your information and publications will remain associated with you, even if you move to another institution or change your name. The unique Author Identifier also helps to avoid mismatches when it comes to different name variations or spelling errors.
The most commonly used Author Identifiers:
Scopus Author ID (Elsevier)
Orcid ID (Open Researcher & Contributor ID)
Web of Science ResearcherID (Clarivate)
Google Scholar Profile
The important Author Identifiers for automatically updating the researcher profile in CRIS:
Scopus Author ID (Elsevier)
Orcid ID (Open Researcher & Contributor ID)
CRIS automatically imports all your publications from Scopus and IHP.
The records are harvested from the sources indexed in Scopus database according to researcher's Scopus ID (updated in the researcher's CRIS profile).
The records are harvested from the IHP (Index to Hebrew Periodicals) database according to researcher's ORCID ID (updated in the researcher's CRIS profile).
Log in to your SAP account by using the institutional login credentials: https://portal.technion.ac.il/irj/portal/
Go to the 'מזהים ייחודיים לחוקרים' tab.
Enter your identifiers into the fields: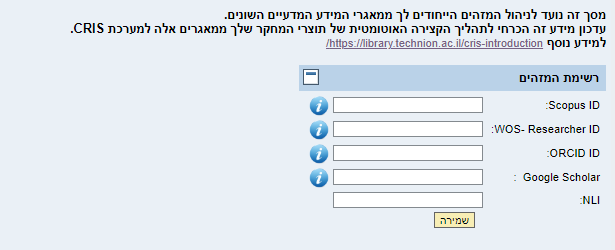 Click 'שמירה' button to the changes.
Please, note: the changes in the SAP system will be shown in your CRIS profile next morning.