The Researcher Profile provides a unique identification number for each author.
The identification number helps to raise your research visibility, finding and recognizing specific authors, avoiding the confusion caused by similar names etc.
Thanks to the unique Author Identifier, your information and publications will remain associated with you, even if you move to another
institution or change your name. The unique Author Identifier also helps  to avoid mismatches when it comes to different name variations or spelling errors.
The most commonly used Author Identifiers:
Scopus Author ID
Orcid ID
based on the subject, title or/and abstract of your research
WoS Researcher Profile
Google Scholar Profile
The Scopus Author Identifier assigns a unique number to authors in Scopus.
The Scopus author identifier helps in finding documents written by a specific author. To determine which author names should have the same identification, Scopus Author Identifier uses an algorithm that matches the authors' names based on their affiliation, address, subject area, source title, dates of publication, citations, and co-authors.
A Scopus Author ID is automatically generated on the first time one of your publications is indexed in Scopus, and it can also be integrated with ORCID.
* ORCID can be used across all platforms, but your Scopus Author ID is specific to Scopus.
Scopus will sometimes generate multiple IDs for the same author, due to name spelling variations.
To solve this and to optimize the citation metrics, request to merge your author IDs.
For more information, please read the following page: Scopus Author Identifier on Elsevier's official website.
Type last name, the initials and the affiliation (e.g. Technion) of the author in the 'Authors' search tab and click on 'Search':

*Alternatively, search the authors by their ORCID identifier.
Click on the name of the author to reach their author's profile and H-Index:

ORCID (Open Researcher and Contributor ID) is a digital identifier that provides a unique number for each author.
ORCID provides a consistent digital identifier that distinguishes you from other researchers (including researchers who have the same name as yours).
Through integration in key research workflows such as manuscripts and grant submissions, your ORCID ID automatically makes the connection between your profile and your professional activities, ensuring that your work gets recognized.
We invite you to create your institutional ORCID account that will be associated with the Technion: ORCID integration at the Technion 
Sign in or register with your personal details
Choose a privacy level: "public" or "trusted parties"
AUTHORIZE to create your Technion ORCID
With your permission, ORCID will import articles from Scopus, Web of Science, Europe PubMed Central and CrossRef, if their citations have a unique identifier (e.g., DOI, ISBN). You can also import your publications from databases (Web of Science, Scopus, etc.) on your own:
Login to ORCID and click the Add Work button in the Works Section.
Click the Search & Link button in the Works Section of your profile.
Follow the link to the resource from which you want to import citations.
For any support, please contact your Faculty Library. Medical Faculty members who work
in hospitals affiliated with the Technion may receive assistance from the hospital librarians.
Read more: ORCID integration at the Technion – Tutorial by the Technion Libraries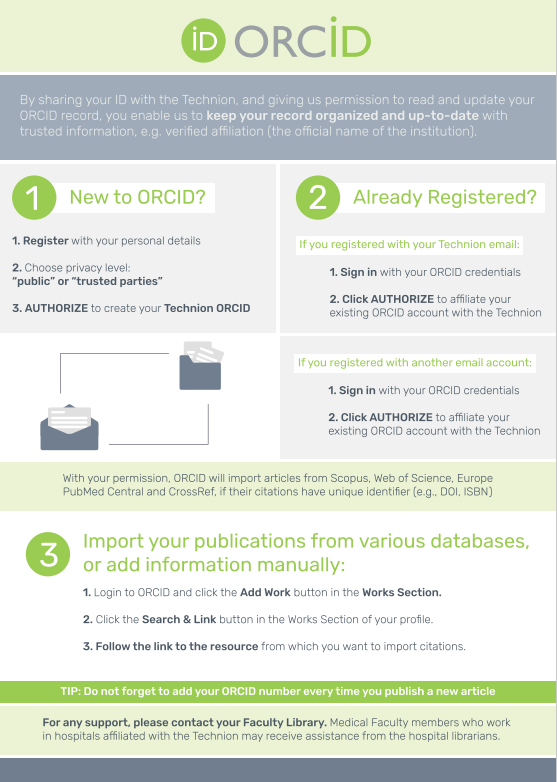 Web of Science (WoS) researcher profiles are the next stage in the evolution of Clarivate's researcher profile offering after replacing Publons. 
If you had a Publons profile, you will now find it in Web of Science. WoS Researcher Profile is the only profile where you can track your publications, citation metrics, handling editor work, and peer reviews for journals, conferences, and funders in one place. 
WoS researcher profile has four distinct sections: profile card, metrics panel, publication records, peer review record. The profile card include the unique identifier – Web of Science ResearcherID (Formerly Publons).
Web of Science ResearcherID connects the researcher as an author to his works in the Web of Science ecosystem.
WoS Researcher Profile is integrated with ORCID and may be synchronized with a few clicks .
For more information, please read the following page:
http://webofscience.help.clarivate.com/en-us/Content/wos-researcher-profile.html
https://publons.freshdesk.com/support/solutions
To create/ view your researcher profile, click on 'person icon' on the side navigation panel.
Provide your e-mail to create new or sign in to the existing account.
Click 'View my researcher profile' to see you personal information and customize some aspects of your public representation: 

WoS Researcher Profiles can only be updated by the profile owner
Duplicates profiles after replacing Publons. 
If you've noticed that you have duplicate profiles or two Web of Science ResearcherIDs, you can request for your profiles to be merged using the following process:
Log into any one of your profiles. 

Navigate  to the 'Delete account' tab of your Account Settings.

Click on "I have a duplicate account" and then submit your request by clicking on the red "Delete account" button at the bottom of the page (as shown below):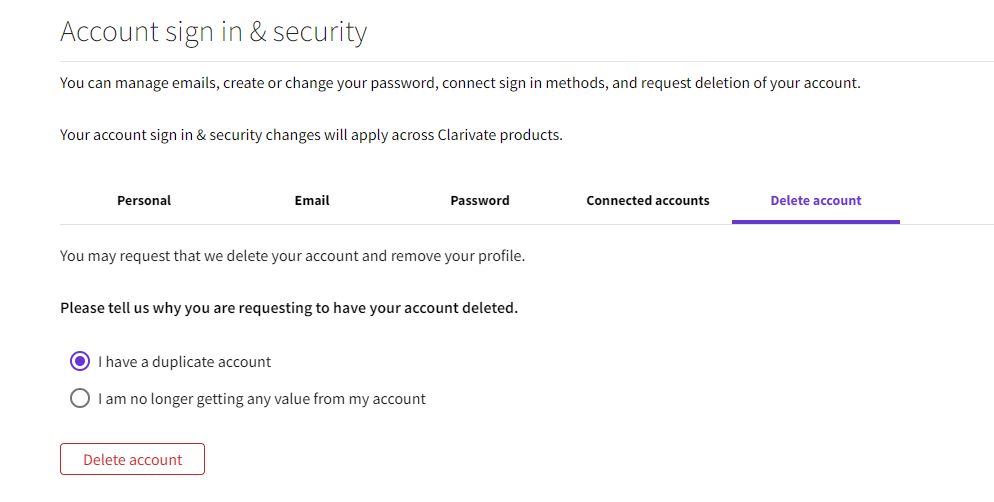 Please note that submitting a request by clicking on "Delete account" will not trigger the deletion of your account nor will it immediately merge your profiles. Once you have      reported your duplicate profiles, we will be in touch with you via email to assist you with merging your profiles. 
Alternatively, you may create a support ticket with the details of the accounts you wish to merge. Please create a support ticket here.  
Technical issue: ORCID syncing
Users who registered between August 18 and December 9 2022 may have experienced errors in syncing their ORCID and Web of Science Researcher Profile records. 
To rectify, please go to your profile and click Edit > ORCID Syncing and then toggle all sync options off and click Save, and then toggle them on again and click Save. 
Records will then sync within 24 hours. 
The author's profile and H-Index on Scopus and Google Scholar
In Google Scholar, there are two ways to find the H-index of an author:
Option 1: From your own profile
Log in with your Google account and click on 'My Profile' on the top right corner of Google Scholar's homepage:

Click on the the search icon on the right side of the page and type the last name and initials of the author in the new search field. Then click  on the search button (note: Google Scholar provides an H-index only for researchers who created a user profile for themselves). Next, click on the author's name.
The following screen displays the H-index of the author, according to the items indexed in Google Scholar:

Option 2: By using 'Advanced Search'
Go to 'Advanced Search' and type the full name or the last name and initials of the author in the 'Return articles authored by' field, then click on 'Search':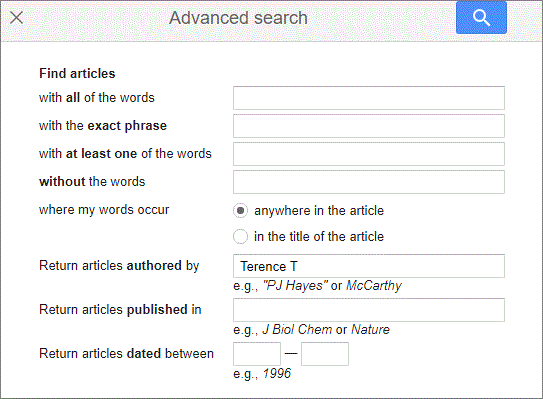 Click on the author's name.
The following screen will display the H-index of the author.