BioRender Premium Account
The premium account for individual or laboratory accounts will be paid with a subsidy from the libraries,
at a yearly nominal cost of 262 ILS per user until July 2024 (instead of 35$ per month, the original BioRender pricing). Students and Technion staff - Please visit the Technion e-shop. Academic staff - Purchase via SAP Portal.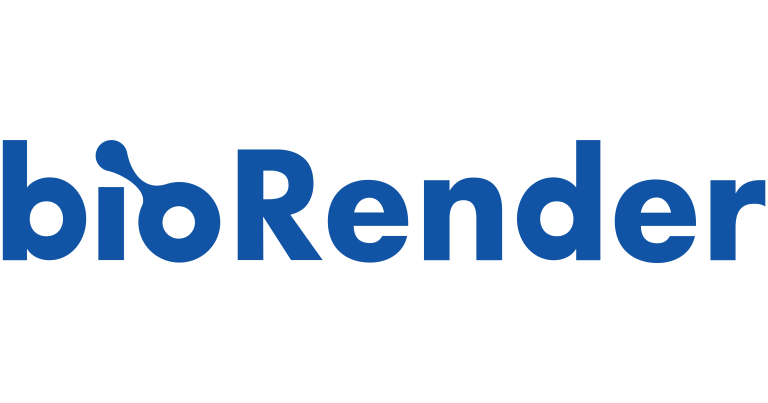 News & Updates from BioRender
"We all make spelling mistakes, but it's almost impossible to spellcheck figures. We're excited to announce that BioRender now offers the first-ever customizable, scientifically accurate SPELLCHECK! We've integrated the most trustworthy scientific libraries so that you can rest assured all your figures spell "phosphorylation" correctly!"
BioRender helps scientists to create and share beautiful, professional science figures in minutes.
It is especially useful for scientists and researchers from the research fields of biology and medicine, as it makes even complex and unique subjects simpler to demonstrate.
The illustrations can be used for research, lectures, courses, books and sharing between colleagues.
What are the benefits of the premium account?
BioRender offers a free version that meets the needs of most students. The benefits of the premium version are primarily useful to researchers and labs who are interested in publishing their research and need BioRender's permission to do so. It is also useful to researchers who use BioRender on a regular basis and will work with more than five illustrations at a time. 
Create up to 5 figures
Use for educational purposes
1,000+ pre-made templates designed by experts
Low-resolution export
Live customer support
Upload your own images and icons
Unlimited version history
Create beautiful 3D models of proteins using the Protein Data Bank (PDB)
Does not provide permission to publish in journals
Premium account benefits:
Unlimited figures
Publish in journals
High-resolution export without watermarks
Create slide decks with Slides Beta
Effortlessly draw cells, membranes and more with Premium 'bio-brushes'
Illustrate changes in temperature, pH and more with color gradients
Easily share figures with each other with Shared Folders
Biorender Premium Account for Technion Staff & Students
The premium account for individual or laboratory accounts will be paid with a subsidy from the libraries, at a yearly nominal cost of 262 ILS per user until July 2023 (instead of 35$ per month, the original BioRender pricing).
In order to pay for the service:
For technical issues or any further questions, please contact us.
Login to your Biorender Premium Account (after payment)
Downgrading a Technion Premium Account Back to a "Free" Account
If your premium account period has ended, you're still able to access your Biorender account by using your Technion email. In that case, please write your email in the
login page
, DO NOT click on "Log in with Technion" and instead click on "Forgot your password".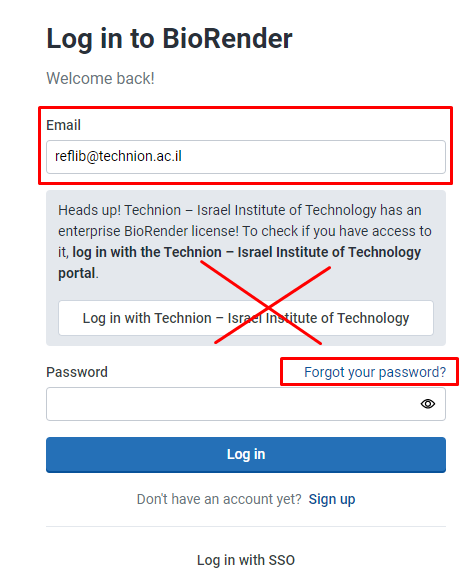 Get started with BioRender learning hub
BioRender learning hub offers a collection of inspiring video tutorials, useful for both beginner and advanced users.
The videos vary from one-minute tutorials and design tips, to complete one-hour-long webinars. 
The topics include both basic tutorials (for example: changing icon colors and creating custom shapes), and more broad subjects such as "COVID-19 immunology 101 for non-immunologists" (a tutorial by Akiko Iwasaki, Ph.D.).
Following the instructions in the tutorials step-by-step to create your own unique and professional illustrations will help to support your research by giving a more clear perspective. It will also help to enrich any presentation or publication with the context of visual demonstrations. BioRender's user-friendly and intuitive interface makes it simple for anyone to create the image that they aim for.
Completed Graphics included in any published or printed material, including websites and social media, containing BioRender Content as permitted hereunder must include the following credit adjacent to the Completed Graphics or in audio/visual production credits: "Created with BioRender.com".
Aside from a proper citation, all that is required to publish BioRender content in a thesis or an article within a peer-reviewed journal is a publication license that can be downloaded by the user when they export their illustration. A thesis that is held only within the University's library system is considered unpublished, and does not require a publication license.
Please contact support@biorender.com should you have any other questions or concerns.