In order to focus on the core value proposition of reference management, research data management and citation solutions, Mendeley will retire the following features from December 2020:
Mendeley Public Groups:

All public group pages, including invite-only groups, will be removed.
Mendeley Group Search will be removed.
All metadata associated with public groups will be removed from the systems and will not be available for data export.

To save your public group document metadata, please export it via:

Mendeley Reference Manager's export functionality, click here for details.
Mendeley Desktop's export functionality.
Recreating your community using private groups and move your public group document metadata to the new private group.
Please note that private groups will continue to be available through Mendeley Desktop and Mendeley Reference Manager.
Mendeley Profiles:

Mendeley Profile pages will be removed.
Mendeley People Search will be removed.

Mendeley Feed
Mendeley Funding
For more information, please follow the link .
1. Gain access to Mendeley Institutional account
Mendeley Institutional Edition offers premium user features:
Additional storage: 100 GB of personal library storage space, and another 100GB of shared library storage space
Unlimited number of private groups with up to 100 members in each group
Joining the Mendeley Institutional Edition (a free service to all Technion community) is automatic when you access your account from a Technion IP address or by VPN connection. 
It remains valid for 12 months after the last login from a Technion IP or by VPN.
More information about VPN service find here.
If you create your account while you are on campus and have a Technion IP address, go to Mendeley website  (mendeley.com). You will automatically be identified as a Technion member and will be able to use the Institutional Edition. 
On the Mendeley website click on Create account in the top menu.
By clicking 'Finish' you will agree to the terms of use.
This account you can also use it to sign in to other Elsevier services including Science Direct or Scopus.
If you already have an Elsevier account, e.g. for Science Direct or Scopus, you can use this to sign in to Mendeley Desktop and mendeley.com.
To upgrade an existing free Mendeley account, sign-in to your Mendeley account from a Technion IP address or by VPN connection.
To start using Mendeley you should create an account and download the desktop program to your computer.
Create an account (free or institutional).

Download the desktop program. 

Install the web importer.
To create new Mendeley account, go to the Mendeley website and click 'Create a free account'.
Firstly enter your email, then fill in the required fields (first and last name, password) and click 'Get Started'.
You can use your Technion email or a different email (Gmail, Yahoo and others).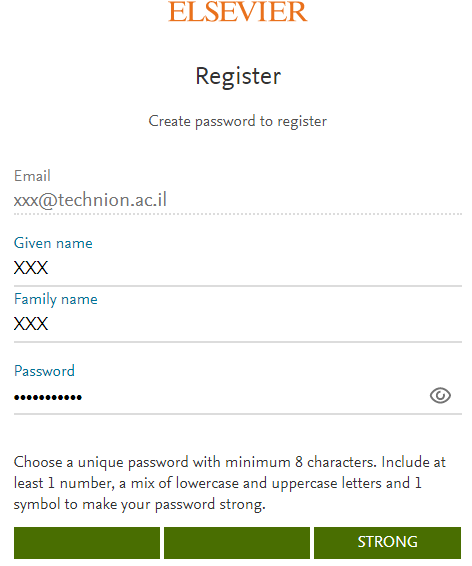 Complete your profile by selecting your field of study and academic status (optionally).
By clicking 'Finish' you will agree to the terms of use.
You can also log into Mendeley using the same credentials that you use for other Elsevier services, such as Scopus or ScienceDirect.
To gain access to Mendeley Institutional account, please click the link: Gain access to Mendeley Institutional account
.
Immediately after creating new account you will be able to download Mendeley Desktop.
Click 'Get Reference Manager' in the Mendeley website and then click 'Download Mendeley Desktop':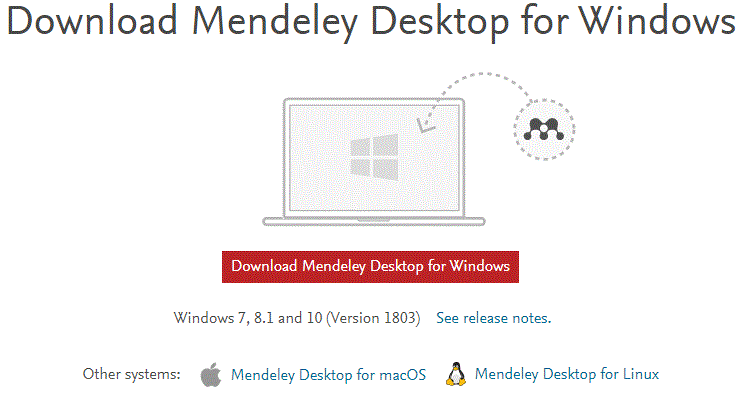 Then follow the instructions on screen.
4. Organizing Mendeley library
5. Create citations and bibliography
When you fail to sign-in into Mendeley with your username and password or when you notice that your Mendeley desktop is not synchronized with your online account, maybe clearing your browser's cookies will help. You can use this guide which explains how to clear your browser's cookies and contact us for any further assistance if needed.
While it's very easy to import bibliography of articles from databases, Google Scholar, the publisher's websites or by using the PDF files (drag & drop), the import of books and book sections details is not always intuitive. In order to make the import you can add references manually or use one of theses two options:
Library Search System (EDS)
You can use the Technion Library's search engine in order to obtain books and book sections and save data by creating file in RIS format.
You can use other catalogs as well, especially when the library's search engines failed to retrieve the desired item. In such case it is most recommended to use an international library catalog such as Worldcat.
As well you can Import details from the publisher's website (excellent for book chapters).
Go to the publisher's website and find your book version. Then, click on the web importer and it will be delivered to your Mendeley account as a book bibliography. If the material is an ebook, Mendeley should identify the different chapters, which may help your citation to be more accurate.